Emiliano Martinez has only played three games for his new club, Aston Villa, but he has already established himself as a fan favourite, and it is difficult to see Tom Heaton winning the number one spot back when he returns from injury.
He was also a fan favourite at Arsenal, and when he deputised for Bernd Leno for the last part of the 2019/20 season, he did not put a foot wrong. However, despite this, Mikel Arteta still could not guarantee him first team football, so Martinez said adios to London and joined Villa for £20 million. Is this a decision that Arsenal could come to regret?
A Debut to Remember
Martinez made his Premier League debut for Villa at home to Sheffield United, and after a slow start to the game it looked like things were turning in Villa's favour when Sheffield's John Egan was shown a red card for bringing down Ollie Watkins when he was battling to get through on goal. Even the most ardent of Villa fans would probably say that it was a harsh red card, but then they would probably argue that VAR owes them a bit of luck after last season.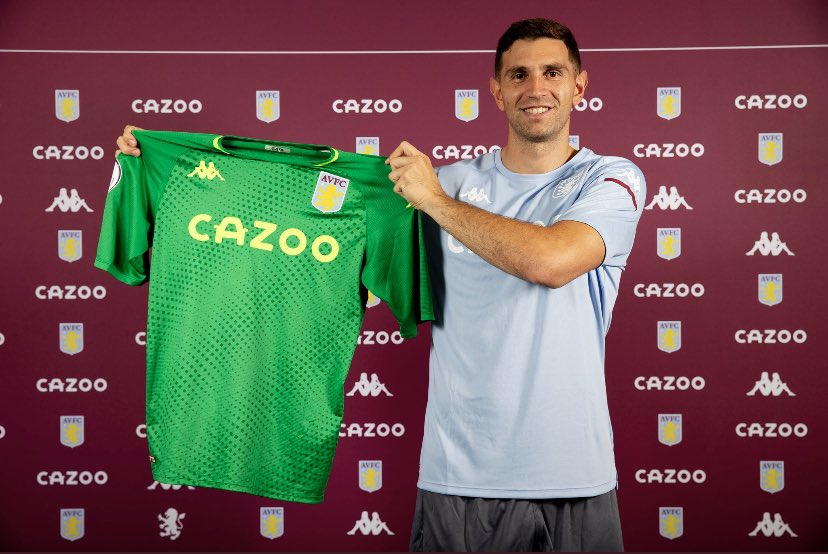 Villa started to boss the play, but in the 33rd minute Sheffield went on the counterattack and Matt Targett tripped Oliver Burke when he was in on goal to give away a penalty. In truth, if Egan was shown a red card for his misdemeanor, Targett probably should have seen one too. Martinez now had his first proper test – prevent Villa from going 1-0 down. And he did exactly that! John Lundstram stepped up to take the spot-kick, and Martinez threw himself low to his right to keep the scores level.
He went on to make a couple of other great saves throughout the game, to earn himself the Man of the Match award on his Villa Park debut. Ezri Konsa scored the only goal of the game, and Martinez played a key role in helping his new team get off to a solid start.
Anyone who had a bet on Sheffield, who had a great campaign last season, to get something out of the match, will have been pretty peeved off by Martinez's quality performance. If you are reading this and you are from Nigeria, and you want to start betting on the Premier League yourself, then we highly recommend you pay a visit to https://www.sport-betting.ng/. Here you will be able to find all of the best sports betting sites for Nigerians, including the likes of Nairabet and Surebet247. Sign up with a bookie that they recommend, and you will not regret it.
What Makes Martinez Such a Good Keeper?
Martinez has only played three games for Aston Villa, including an astounding 7-2 win over Champions Liverpool, but you can already see that the Villa defense are a lot more confident than they were for the majority of last season. This is because they know that they have a quality goalkeeper behind them who can help them out should they make a mistake. Now, that is not to say that Pepe Reina is not a good keeper, but he did make a couple of blunders during his short Villa career and that probably played on his defenders' minds a little bit.
A great keeper instills confidence in his defenders, and that is exactly what Martinez does. A quality keeper commands his box and makes sure his defenders are where they should be and, once again, Martinez does exactly that. To add to this, he also has great distribution which helps a lot – there is nothing more annoying than watching a keeper kick possession back to the other team.
Martinez Against Leno
Martinez left Arsenal because he wanted first team action, but how does the Argentine compare with the German? Was there a realistic chance that he could have kept the number one spot once Leno was back from injury? In our honest opinion, the answer is no. Arsenal had a really poor 2019/20 campaign, and Leno was voted as the second-best player of the season, behind Pierre-Emerick Aubameyang.
Leno's stats show why he came second, despite having missed a chunk of the season through injury. The expected goals from the number of shots that Leno faced this season was 46.3 but, in those games, he only conceded 39, which suggests that Leno was worth seven goals last season. He also saved an impressive 75.47% of the shots that he faced.
Martinez's sample size is quite smaller, but his stats are also quite impressive. The expected goals from the number of shots that he faced was 9.5, but Martinez only conceded 6. He had a save percentage of 78.57%.
The expected goals that Martinez has prevented over the course of 90 minutes was better than any other keeper in the league last season, but we must note the Leno has proven himself throughout the season.
Will Arsenal Regret Letting Martinez Go?
In Martinez and Leno, Arsenal, without doubt, had two of the best goalkeepers in the league. However, a goalkeeper with Martinez's quality deserves to be starting week in week out, not sitting on the bench, so he made the right decision to move to another club. Leno is a fantastic keeper, so Arsenal will be fine with him between the sticks, but if he picks up an injury then they might wish that they could turn to Martinez because the keeper they got to replace the Argentine does not instill us with great confidence. However, I guess we will just have to wait and see.