From the comments, tweets and messge boards on Sunday night you could be forgiven for thinking that Luis Suarez had actually been the third member of the Boston bombing club, with the Uruguayan vilified amid calls for life-time bans from some supporters. By Monday morning the national press had whipped it all up into a frenzy too, with back-page (and front-page?!) headlines along the lines of 'Disgrace', 'the Animal' etc.
One fan last night was calling for the FA to give him a life ban, criminal charges to be taken against him, and Liverpool to sack him as 'in any other line of work you would face the sack immediatley', taking the case to ridiculous levels presumably because he's a fan of Man Utd?
Whilst I'm not trying to defend Suarez – it's fairly obvious that what he did was unacceptable, and certainly not in the spirit the game should be played – you can't help but feel that it's only because the incident features a certain Uruguayan protagonist that it has been kicked up into such a furore.
Indeed, Jermain Defoe did something very similar when he was playing at Portsmouth some years ago – and all he got was a yellow card!? I don't remember the press calling Defoe despicable back then?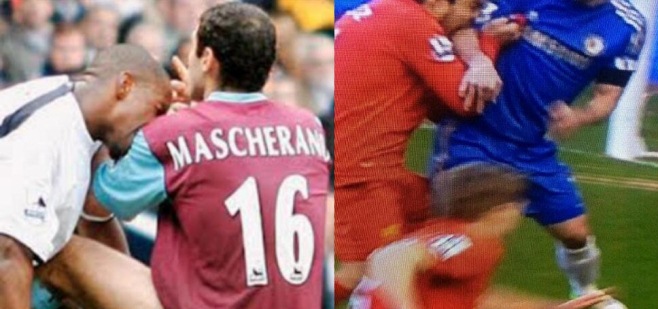 Secondly, whilst biting is obviously new to the world of football, it's not actually THAT dangerous. Suarez had a bite at Ivanovic, who pulled his arm away in shock, and wasn't in the least bit shaken or hurt by the incident. he continued to play for the rest of the match, completeley unscathed, and was then seen hugging Suarez at the end of the match as they showed their mutual respect for one another in what had been an enthralling tussle.
Contrast that with lunging leg-breaking late sliding tackles. Or head-butts. Or stamping on players. Is biting worse than any of those? The answer is no. Some footballers have thundered into late, late challneges with all their speed and power, broken their opponents legs, and then been defended by their boss, team-mates, etc as 'not being that kind of player', and defended at all costs, even though the injury puts their opponent out of action for 6 months at least, and is potentially career-ending!?
So what now for Suarez? If the referee has seen it (and he did get shown the bite marks by Ivanovic at the time) then the FA shouldn't be able to act on it, even if there are mobs of fans foaming at the mouth. If the ref hasn't seen it then it should be a 3-match ban.
The players has apologeised, the club has apologiesed and will obviously discipline Suarez internally, and the fans will accept that having this imulsive fire and passion is one of the things that makes Suarez great for them. Most LFC fans had already forgiven him by the time he scored his 97th minute equaliser. he should stay at Liverpool and continue Brenadn Rodgers project.
What do YOU think? Tell me on twitter – @ftbllr